I'm very happy to announce my first solo exhibition in Tokyo!! From Jun 24 (Fri) to 26 (Sun) at THE blank GALLERY, with opening reception at Saturday night. I hope I can meet many of my friends and new friends there.
You can check updates from my event page on facebook.
A-nya.PoPo初個展開催します。6/25(土)の夕方からオープニングレセプションの予定です。ぜひ気軽に遊びにきてください。詳細はfacebookイベントページで告知予定です。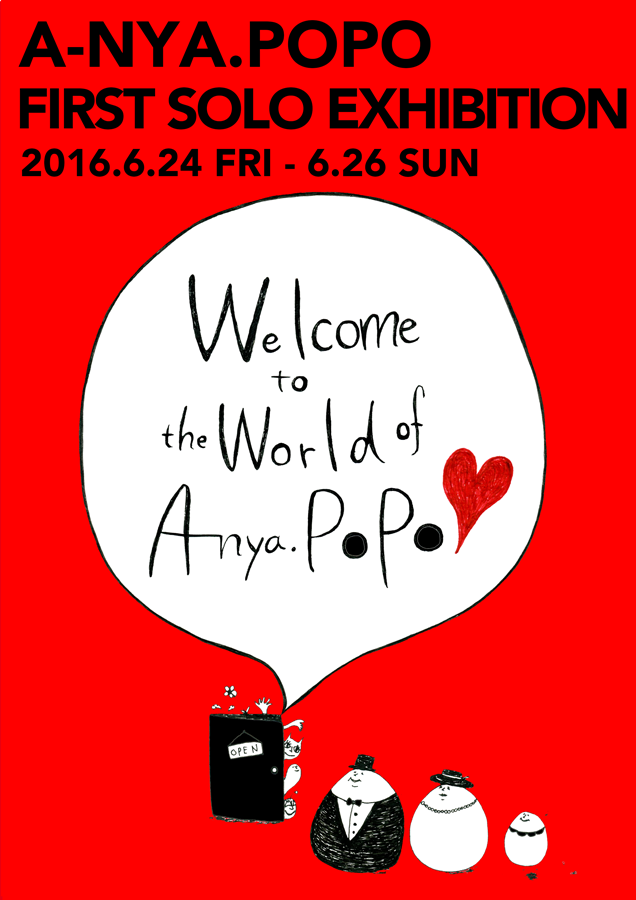 A-nya.PoPo First Solo Exhibition
– WELCOME TO THE WORLD OF A-NYA.POPO –
2016.6.24 Fri – 6.26 Sun
Fri 17:00-20:00
Sat 12:00-20:00 ※18:00-Reception
Sun 12:00-17:00
◆6/25(土)18:00-20:00
オープニングレセプション: 飲み物持込可
[会場]
THE blank GALLERY 原宿
東京都渋谷区神宮前3-21-6 大崎ビル3F
(JR原宿駅 徒歩9分 / 東京メトロ副都心線 明治神宮前駅出口5 徒歩5分)
========
本個展は、A-nya.PoPoにとって東京で初めて開催する個展です。彼女の友人、ファン、そして彼女を応援する世界中の人々へのご挨拶でもあります。
やさしくて、不器用で、真面目で、生きるのが下手な人。アーティストとしてのA-nya.PoPoは、そんな人たちに向けて作品を作っています。それは彼女自身も同じだから、彼らに寄り添いたいから。
これまでのA-nya.PoPoのアートに関わる活動は、すべて彼女のまわりの人たちの助けとともに始まっています。ロンドン芸術大学への留学へ背中を押してくれた友人たち、アートを生業とする決断をするきっかけとなった画家だった生前の母、どんなときも厳しくも温かく見送ってくれた詩人の父。たくさんの人に支えられてきました。
この数年でさまざまな転機を経験しつつもアーティストとしての制作活動を続けてきたA-nya.PoPoは、自分がまわりの人たちに一番貢献できるのはアートを通してなんだと気づきました。この個展を通して、これまで彼女を助けてくれた人たちや応援してきてくれた人たちへ、東京でアーティストとして本格的に活動を始めたことを伝えたい、まだ出会っていない仲間と出会いたいという思いがあります。
大事な最初の一歩なのです。
A-nya.PoPoの世界へようこそ。
きっと元気がもらえます。
ほっこりしにきてください。
========
[About Exhibition]
A-nya.PoPo has lead quite the crazy life. A lot of ups and downs made her into the creator she is today. It feels like a miracle to be here. And the only way she made it this far was through the love and support of all her dear ones and her powerful imagination.
A-nya.PoPo's father is a poet; and her mum an artist. Since a very young age she would help the now departed Moe Nahara run a very unconventional art school for children and learning creative skills, she kept on making art ever since. Haruo Fujita's poetic eyes always communicated the value and beauty of life to her.
After a fantastic year of studying art in London she is now back to Tokyo and decided it's was time to give back and open her world for public.
In the show, you will navigate through her cross disciplinary books made in London and meet all her funny and imaginative friends floating around in space.
Welcome to A-nya.PoPo's world, enjoy her magical world.